ZIPPY



c. Bill Griffith

Am I A Doll Yet?
    In November, 1983, we signed our first licensing agreement with Bill Griffith, creator of the syndicated cartoon character Zippy The Pinhead, to fabricate, produce, and distribute nationally and internationally the soft dolls of Zippy and members of his family.
It was in a deserted hot tub emporium in Berkeley California that we turned out a special limited edition 3 ft Zippy doll. We kept the stuffing in an old wooden hot tub (empty of course) and had special kids stuffing  legs. We worked all hours of the day and night and drove around in cars with the large pinhead for a passenger.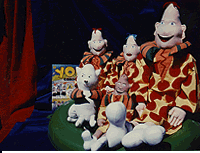 We made smaller Zippys too, like you see like you see in the picture on the right. Eventually we moved to Oakland where, in our apartment on Emerald St, we made smaller Zippys, a less expensive, less three dimensional model with a silk-screened face, and we sold this cheaper model to the Sausalito Ferry Co, and to the Spencer Gift Co, for whom we made several thousand dolls. The old Singer industrial machine whirred away, turning out seemingly endless Zippy body parts. We worked very hard and had a lot of fun,  but we never got rich.