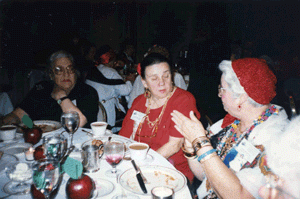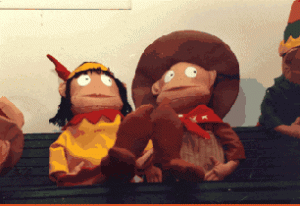 A VAGABOND SONG

An After Dinner Slide Lecture On The Opening Evening Of
Letita Penn Doll Club
UFDC
Regional 13 Conference
Members of the United Federation of Doll Clubs are united by their appreciation for dolls. The objectives of the non-profit organization are to create, stimulate and maintain a national and nternational interest in all matters pertaining to doll collecting.October 3-6 1996 Sheraton Society Hill Hotel, Philadelphia, Pa.


1. It is a pleasure to be here. Especially amongst a group to whom I do not have to explain that my interest in Brownies does not refer to an organization of young girls. My only regret is that Icannot stay for the conference. Indeed, when I signed on, my wife and I were going to make this the beginning of a couple of weeks of research and holiday in this area, which is so rich in Brownie collections and history. It is also rich in gardens, which is both my wife's pleasure andher practise. As the new Director of the Royal Botanical Gardens for the past four weeks, she is unable to attend, but made certain that I pronounce all words correctly, and don't mumble.


2. Marilyn Merry and I have had a long distant relationship since 1992. We finally met face to face on August 31 at my new home in Grimsby, Ontario which is conveniently onher route from her summer home on Manitoulin Island on Lake Huron and Georgian Bayto home base in Hellertown. Actually, the United Empire Loyalists who settled Grimsby in the Niagara Peninsula, came from this area of Pennsylvania and New Jersey.
3. She caught me on the third day of unpacking, which is still going on. I was unable to show her my Brownie collection, save for a drawing I had transported myself. Needless to say, we fell immediately into an all too brief gabfest about homes and families and histories and Brownies. I also want to thank Marilyn for bringing her Brownie Collection for display in the registration area. Thanks must also go to Martha Repman and Karen Lightner of the Rare BookDepartment of the Free Library of Philadelphia for providing us with an opportunity to see original Palmer Cox drawings. The library has the best collection of Cox Brownie art in the United States.An Introduction to PALMER COXI want to spend a few minutes introducing you to the breadth and depth of Palmer Cox's influence on the development of our modern culture. In my years of research in the United States and Canada, I have always found that Americans recognize the name of Palmer Cox and the Brownies a bit more than Canadians, Although Cox and the Brownies were known world-wide through books and St. Nicholas Magazine, Canada did not have the variety of products and toys and dolls that so engaged this country. Left primarily with books and some products and advertising, Canadians' knowledge is left to the family reading traditions. I have been able to uncover and, especially important, organize a vast amount of information about Cox and his life. I have also had the good fortune to meet several members of the Cox family on both sides of the border.. Before I begin to tell you about the dolls surrounding this Brownie rage, I wnat to tell you something of Cox's life and times, so that you may set him beside the other doll and childhood contexts.

4. As with so many aspects of what is now recognized as American popular culture, one of the prime players had come from elsewhere. Palmer Cox was born in Canada in 1840 on a farm near the small scottish settlement of Granby in the Eastern Townships of Quebec. Leaving Canada as a young man, Cox worked as a railroad contractor in San Francisco until 1874, when he moved to New York to pursue a developing career in writing and illustrating books of anecdotal humour. While working as an advertising artist and cartoonist, 5. he published four books of illustrated humour for the railway market. In 1879, at the suggestion of his engraver, he switched to the increasingly lucrative children's market. This change suited Cox's personality and ethics. He had been working for the satirical comic magazines them popular in new York. In addition to the rough and quick treatment his drawings received from low-paid engravers, the humour found in these papers often relied on drunkenness rather than having "an idea behind it," as he would remark later. Cox established a reputation for his funny animals and accompanying verse, which he employed in both his writing for children and in advertising. In 1882 ,…6.. in the popular children's magazine, St. Nicholas, Cox introduced the characters which proved to be the foundation of his fame and fortune. Cox developed his version of the Brownies from Scottish folktales that his mother had told him as a child. Traditional Brownies were members of the fairy world whose
principal attribute was helping with house and farm chores while the household slept. 7 Cox expanded this folkloric core into a leaderless band of adventuresome and mischievous tiny figures of assorted nationalities and professions, thus reflecting the immigrant patterns (as well as the prevalent myth of opportunity) which characterized North America in his day/. Cox's Brownies retained their trasditional pattern of helping humans, but he added adventures that included exploring such contemporary activities as 8 roller-skating, 9 playing tennis, and hot-air ballooning, as well as travel to distant lands. Not surprisingly, 10 children responded immediately to the sense of adventure and fun, and over the next thirty years Cox was to provide dozens of further submissions to St.Nicholas. By the time the early stories were compiled into one volume and published by The Century Company (a division of Scribner's) as The Brownies; Their Book in 1887, the international distribution of St. Nicholas had created a world-wide demand for Cox's creations. Thirteen Brownie books were to follow, two Brownie plays, and a very successful primer. Cox was the only North American author/illustrator of his day to enjoy both critical and popular success: parents, teachers, and librarians approved of Cox's gentle moralizing, while children loved the energetic exploration of the contemporary world. Cox apparently
never tired of his characters nor of their many small admirers. 11 When he passed away in 1924, Cox had succeeded in the world's of literature, comics, business, and the theater. He helped greatly in how the author/artist might profit from the modern world.
PALMER COX and the Development of Licensing
The 1890's, the period of Palmer Cox's greatest popularity, was the crux of The transitional Period, the time in North American life from the end of the Civil War in the United States to the start of the First World War in Europe. Enormous societal change occured during this time: 12….technology, commerce, communication, transportation and the growth of the urban culture. Plentiful and inexpensive games, toys, puzzles and
novelties reflected these changes, not only in the matter of their production and manufacture but in their themes and manner of sales. In the midst of this change, Palmer Cox, children's author, illustrator, artist, and poet, added a new dimension for writers and artists. From the outset, even before the Brownies' phenomenal popularity, Cox exercised as much control as possible over his creations. Companies often asked Cox to prepare advertising booklets, which were still a major form of communicating. 13 Cox took his cue from the newly established syndication of news, and in 1885 created a booklet titled Little Grains For Little People, which featured his now familiar drawings. Then he sold it to two differen companies, for two different products: Willimantic Cotton and A No 1 Chocolate Creams. By this device Cox had laid the groundwork for licensing his
characters. Although Cox did work for two of the new advertising agencies, his most common relationship was either with someone like Harley Proctor 14 of Proctor and Gamble, who personally chose him for Ivory Soap advertising, or with the company's printer. Thus, as an artist for hire, whose work for children could also be seen in magazines, he was able to place his developing characters in the advertisements for which he was hired. Be they bears or Brownies, they were becoming so popular that it was not difficult to place them. During this period advertising artists tended to be anonymous and Cox seems alone establishing a name for himself. It was now certain that, if an advertising booklet did not carry his copyright, it always carried his name. As 1890 approached, and Palmer Cox neared age fifty, his popularity and the Brownies' visibility were about to achieve unprecedented levels. Companies continued to recognize Cox's abilities with increasing attention paid to the Brownies' effectiveness as salesmen. The work for Proctor and Gamble and Hawley & Hoops' Breakfast Cocoa continued. 15 The Brownies' Discovery, abooklet for Tarrant's Seltzer, was produced just prior to the
publication of the first Brownie book. An almanac was drawn for G.G. Green & Co.'s German Syrup, and an Oakley's Soap sixteen-page booklet featured Brownies and verse. Cox and Malcolm Douglas, a colleague from St. Nicholas, began to write…16….an opera-a musical extravaganza, really-called The Brownies and…17….a cantata for small children to perform-The Brownies In Fairyland. The musical extravaganza opened here
in Philadelphia on October 15 1894 at the Park Theater at…18…Broad and Fairmont. Once it was fine-tuned here and in Boston, it went on to New York and ultimately spent four years touring United States and Canada. Palmer Cox and Malcolm Douglas travelledwith the company during these four years. Cox often did newspaper interviews and appeared on stage each night between acts to say a word or two to the families that
flocked to the evening and matinee performances. 19 …Exquisite porcelain Brownie figures were now coming into the country from Germany. Imitation Brownies were appearing in trade cards and other advertising. In
1891 the copyright laws offered more protection when the United States signed the International Copyright Law. Cox now had two Brownie Books and three Queer People(1) books on the market, and that fall he was to begin an exclusive monthly Brownie series in the Ladies Home Journal. That year the publisher and game manufacturer,
McGloughlin Bros., produced The Brownie Blocks under Palmer Cox's 1891 copyright. Six deliciously executed watercolors had been painted by Cox based on typical Brownie adventures….20…These were also used for three sets of Brownie Scroll Puzzles in 1891…21…Brownie Portrait Cubes…22 were produced in 1892 with the Dude, the Policeman, the Chinaman, the Cadet, Uncle Sam and the Indian to assembled to stand 12 1/2 inches high. Brownie Nine Pins…23…and Palmer Cox Original Brownie Stamps also came to the market in 1892. They represent the first puzzles, games, and toys ever made from an author's characters with his direct involvement and to his profit. (1) After Cox became famous with the Brownies in 1887, his funny animal drawings and
verse, which had appeared in numerous magazines, were gathered together by the Hubbard Bros. Publishing C.of Philidelphiain in three handsomely bound books such as: Queer People With Wings and Stings and their Kweer Kapers (1888). Unfortunately, the firm was in financial difficulty by 1890, and Cox agreed to their offering reprints to other firms so that he might collect on the funds owed him. This resulted in a vast number
of inexpensive reprints by firms such as Donohue, Hurst, Conkey and others which were produced beyond Cox's control.
AND NOW TO THE DOLLSAND NOW TO THE DOLLS
The French and then German dominance of the imported doll market is well known to all of you. I suspect you are equally familiar with the primarily women entrepreneurs of the last quarter of the nineteenth century who designed, papented and sold dolls of cloth, stockenette, etc. Izannah Walker of Pawtucket R.I., is reported to have made the first commercial cloth doll long before her 1873 patant. Edward Peck, of Brooklyn, designed a
printed Santa Claus in 1886. Then, in quick succession, Rebecca Johnson, Martha Chaser, Emma and Marietta Adams, Ida Gutsel, Louise Bowden, Celia and Charity Smith, and Julia Jones Beecher. And the Cocheco Manufaturing Comapany. In 1895 Bertha Trufant…25…And, of course, we all know that our Brownie Doll by Arnold Printworks of North Adams are from 1892. Julia Jones Beecher and Martha Chase are both reported to have been developing theirdoll concepts in the early and mid 1880's. It was about this time that Myra Whitney of Bradford, Pennsylvania was earning extra money for the family by making and selling Christmas decorations in the form of owls. Mrs. Whitney's husband was an oil producer, a hit or miss business, and the money was a cushion for the growing family. As thepopularity of decorative owls began to decline, Myra cast about for another idea. The Brownie had been appearing in St. Nicholas since 1883 and well before the 1887 Christmas Season the first Brownie book was announced. The success of The Brownies; Their Book demonstrated the popularity of the mischievous creatures, who couls also be seen scampering about in advertising booklets and tradecards. Myra saw the future of the Brownies and spent a year devising a doll based on them. In 1888 Myra took several hundred dolls to Cincinati and sold them through The Women's Exchange, a consignment store set up by the Women's Christian Association to teach business methods to women. It was a wholly appropriate beginning for her doll, given the role Brownies would play in commerce, good work and play. I want to tease you a bit here and return to this story at the end of my talk. I will pick up the development of this doll and insert them, and Myra Whitney, into the history of American made dolls.
Let's start with German Dolls
All Bisque German Dolls. Someone said that dolls are firstly a business. Indeed it was DOLLS which became the
first Brownie products. Following Myra Whitney's efforts, the first large-scale acknowledgement of the Brownies' popularity is from Germany. I have not been successfulk with any correspondence to museums in Germany about Brownie dolls, but from work previously done by Bach, King(2) Hillier and my own extensive knowledge ofthe ebb and flow of Cox's popularity, I have come up with this information. The first all-bisque dolls I want to refer to are very rare..so rare that I do not have a slide. At least that's my excuse. The only full set I have are at the Strong Museum and private holdings are extremely limited. They are 7-8″ high, trimmed with gold and wonderful bright pastels. Genevieve Angione wrote in Spinning Wheel in 1965 that they were
"unquestionably German," giving a full description and reproducing them in B&W. Ithink these Brownies are probably by Gebruber Heubach. The four-digit system separates them from the work of Ernst Heubach, since they are without the mark of the country of origin required by a tarrif law passed in 1890. They represent the six most popular characters of the Brownie Band (3) 27…This slide shows another set from Germany with the same delicate coloring. Bach mentions that Gebruber made all bisque "piano figures" and these might qualify. Some I
have found carry the four-digit mark, whichwe understand as Bebruber Heubach, and others are unmarked. They are perfect wonderful representations of the Brownie attributes and antics. The known groupings are:
Two Policemen arresting the Dude, as you see here 28…A Policeman watching the Chinaman, Dude and German sitting on a log. 29…this same group to whaich has been added the Indian, AND Brownies, on and off a pig.
A major doll collector told me he has one with an alligator. You can see them all at the Strong Museum
(2) King, by the way, in the English and American bisque dolls chapter of The Collector's History of Dolls says that: A substantial contribution to the history of dolls was, however, made by the American doll designers, who created several completely new types of doll that were made in Germany to their specifications. There were several largeAmerican doll importers including Horsman, Borgfelt, Schwartz Brothers and Wanamakers as well as Sears and Roebuck, Strasburger and Pfeiffer and Company. They were necessarily alive to the demands of the American market. It is not clear to me that these firms apply to the early discussion of Brownie dolls but she describes Brownies as forerunners of the "American fashion for making figurines in imitation of fictional
characters."E.I. Horsman, a doll and toy importer might have had Brownie dolls produced. He was certainly "alive to the market" when. in 1894. he offered two board games based on two popular phenomena, Trilby and the Brownies.(3)One point of correction. The bellhop described in Angione's article is actually the Cadet. Although the typical pillbox hat of the 19th century cadet and soldier has been rounded in this version,
there is no such character in the Brownie Band as a bellhop. The policeman is misnamed the London Bobby. Palmer Cox would have seen the N.Y.C. Police wearing this style of hat from his studio window on Broadway.
Arnold Printworks Dolls, Democracy & the Copyright Law of 1891 The interest in the Brownie's potential as products, initially caught by the dollmaker Myra Whitney and the German doll industry and/or American distributors began to heat up…30…Imitation Brownies had appeared in advertising. Cox had been working to
protect his non-literary work since 1885 and the popularity and pressure from advertisers and companies made it clear to Cox that he should take advantage of the 1891 signing of the International Copyright Law by the United States to register his images. This is the law that gave rise to the familiar January 15 1892 copyright date found onArnold Printworks Dolls and several paper dolls as well. Some of you may know that the
Museum of American Textile Industry in North Andover holds a collection of sample books of Arnold Printworks Company numbering some 1800…31…Senior curator Diane Fagan Affleck and a group of volunteers have been working their way through these books and one surprise they found was this Brownie cloth. We don't know if it appeared at the same time but since the dolls were produced for fifteen years, through to 1907, we
can expect to have seen this material during that period. 32…These dolls sold by the yard included the 12 most popular Brownies. In my research it has been easier to find yardage than dolls in good condition. I think they were lovedback into the bran which often filled them. Speaking of love, I was alerted to a literary reference of these dolls by a collector lastyear. May Sarton, who passed away only recently, was an established novelist and poetwhose eighteenth novel The Magnificent Spinster chronicles the life of Jane Reid who lives a rich full and engaged life as a teacher and Unitarian volunteer and is, heaven forbid, unmarried, keeps her Brownie…33…Dolls throughout her life. We do not read of them in Jane's childhood but rather they appear when she goes off to Vassar College in 1914. They reside in her bedroom in her permanent island home and are adored by her nieces. (4) 34…We must remember one thing about these Brownie products: they provided color to the Brownies. The books, save for the cover, were in black and white. The dolls, of course did something else. They made the unseen Brownies, the Brownies who only came out at night and could only be seen by Uncle Palmer, who had "second sight,"visible and huggable. By the way, a doll price guide I came across stated that there were two sizes, 8″ and 12." I have never come across a 12 inch size and if anyone has, I would be pleased to know about it. 35…The Brownie dolls were often quite prominent in the Arnold Printworks advertisements, as you can see here. (4)Take a close look at Marilyn Merry's collection of these dolls in the Registration
Room. You will not see any cleaner Arnold Printworks cloth dolls anywhere.We know that cloth dolls gradually beacame used for advertising. Although the Arnold Printworks dolls were never emblazoned with a product name, they were used for promotion. In Novemeber 1894 they decorated the facade, gallery and balcony rails and were suspended from the prosenium arch of the…36…14th Street Theater in New York for the play The Brownies, which had first opened here in Philadelphia on October 15. In 1895 Comfort Magazine of Augusta, Maine described in great detail the ArnolPrintworkd dolls children could obtain if they sent in a subscription. Two subscriptions would get the entire set of twelve. If the children did not wish to "obtain" subscribers
they could, for 50 cents, receive six sets (36 Brownies) and make them up for charity or to sell at church fairs. An astounding 100 sets could be had for $6.50 postpaid.37 (blank) 38 (blank)
OTHER CLOTH DOLLSany could copy Cox's Brownies and claim, if charged with infringement, that, well, it was just their interpretation. Although Cox sought to control and protect his work from the beginning, we cannot always be certain that he or the Century Company knew of all these imitations. (When they sought to publish the Brownie Primer in 1906, they were surprised to find another had been put together in Chicago some years previous. Cox looked at them and said: "Why these are not my Brownies at all!" Today anyone would claim infringement, but back then the implications were not so obvious). Another factor was that toys then simply cost much less than
books. Many of these unauthorized products simply added to the rage for the Brownies and helped sell books.
39…These 1893 version by Cocheco Manufacturing looks quite nice in theis photograph I found. In real life I do not find it all that attractive as a doll….40 41…I have never encountered these Brownie Fritz offered in the 1895 Butler Bros. catalogue. Butler Bros., as Jean Bach tells us, was founded in Sonneburg in Thuringia in 1887 and was both a manufacturer and distributor. I can only suggest that they were for the German-American market which was substantial enough to support German language newspapers and magazines. German was one of three languages commonly found on trilingual directions and instructions, such as the Lion Coffee Dolls I will show later. One of the several Brownie majolica humidors, also presumed to be from Germany, includes a policeman mustachioed in this "Fritz" manner. This is an unknown figure in the style. 43…This 1895 Brownie cloth doll was offered by The Delineator Magazine, otherwise known as The Buttrick Publishing Co. Ltd., which had offices in both London and New York. This copyrighted Brownie Doll and costume came in 3 sizes: 10, 12, 14 inches.
Any size was available for 20 cents.
"UNKNOWN" CLOTH DOLLS
44…Here is an unknown Brownie Doll in the collection of Becky Lowe when I took this picture. I have come to really like it since I first saw it. 45…It is jointed and stuffed, as you can see, and a rather large 20″ in height. We might say it is "life size." There are many more cloth dolls than I will report here. (5) I found several at the Strong Museum early in my research that I have never been able to assign to any company. But that is part of the popularity of the Brownies. Adults and children had a rather proprietary interest in them. They were lovable, friendly, democratic, and anyone could, and did, draw or make their own. In fact there are many non-doll examples, such as china and art. There is a new Brownie doll in the marketplace doing good work. In fact, that is the name of the company, Brownies Do Good Work Ltdd, of Rochester, N.Y. Martha Heller, a doll designer specializing in dolls from literature, returned to original material for her new Brownie doll series, wrote a Brownie book, and even contributes, in Brownie fashion, $1 from each doll sale to charity. (5) Jean Bach reports in her Dictionary of Dollmarks that Steiff made a Brownie Policeman, which she found in the April, 1905 edition of Playthings." She also wrote that Hamburger & Co. of N.Y.C., Berlin & Nuremburg, also made a Brownie Policeman in 1905 in both dressed and jointed version. This firm, Hamburger & Co., made dolls for
Strawbridge and Clothier and other department stores. Interestingly, I found a French Gendarme, which looks like the Brownie Policeman in another Bach book. Both are button in ear."Georgine Averill, which began business in 1913 operating underGeorgine Dolls, Averill Manufacturing Co., Georgine Novelties and Madam Hedron may have produced Brownie dolls. Patricia Smith thought so in Doll Values: Antique to Modern, 8th Edition, stating there were 13″ and 18″ versions. The 10th Blue Book Dolls and Values does not mention Brownies but several characters such as Little Lulu,Sluggo, Nancy, and Uncle Wiggly, which are all much later.Constance King, who stated that the Brownies were forerunners of the American fashion for making figurines in imitation of fictional characters, tells us in Antique Toys and Dolls that the Lion Coffee Brownie
Dolls were originally printed on fabric by the Art Fabric Mills. This does not seem likely to me for the Art Fabric Mills did not print cloth dolls until sfter their formation in 1900, some years after the use of these paper dolls in packages of the popular coffee.Katherine McClinton also thought that Art Fabric Mills made Brownie Tenpins
and so wrote in Antiques of American Childhood. It occured to me that, perhaps, if there were tenpins and they became seperated, as sets often do, that a single tenpin might be mistaken for a Brownie doll. I asked Kendra Krienke Daniel, who collects cloth tenpins, sometimes known as "noiseless Skittles," if her collection of forty sets contained and Brownie tenpins, but it does not. Unless someone can advise otherwise, I think an Art
Fabric Brownie Doll may not exist.
And now to PAPER
46.. The popularity of the Whitney doll, certainly the example of it, led to other versions, which I will come to a bit later. But here I must note a doll made of crepe paper and wire and whose directions could be found in The Delineator of November and December of 1895. Tillie Roome Littell, author of the two-part piece, began with the following, which I find quite interesting because it tells us about the level of popularity and the varieties of
dolls we may encounter…47 The use of Brownies, the race of pygmies invented by Palmer Cox, in decoration isbecoming so general that several firms are manufacturing them-or rather theirskeletons, with heads of undressed kid, and wire arms and legs covered withstockinet. In some instances these are furtnished to the trade already dressed in silk,satin calico or crepe paper.In the window display of several large confectionary shops Brownies have beengiven a very prominent place. They have ornamented candy boxes, perchedthemselves
saucily on the edges of ice cups, or stood with arms akimbo by the sideof green candlesticks, forming the only decoration other than the plain greencrepe-paper shades. 48…Now isn't that interesting? Skeletons of wire and stickinette being sold. Like the cloth dolls that you would fill with bran at home, another complete-at-home Brownie doll. 49…here they are as printed 50..here they are as made 51…and again I took these slides of these dolls as made from The Delineator instructions by Frannie Norton of Wheaton, Illinois. Frannie made these when she was avolunteer at the Dupage County Historical Museum. They are amazingly sturdy. St. Nicholas Magazine offered Brownie paperdolls but we do not know their origin, Musser, in her book Precious Paperdolls, illustrated an unknown Brownie with twochanges of clothes. Paper Dolls Used in Advertising 52 Karen Calvert, in her book Children in the House; the material culture of early childhood 1600-1900, makes some interesting points in a chapter titled Androgynous Dress and Gender-Specific Toys. I will leave aside any discussion as to how Brownie overals might fit into androgynous dress and mention something I found quite interesting as regards dolls. Calvert tells us that toys and dolls were often set aside for energetic play (whereas energetic play was an attribute of modern life that attractedchildren to the Brownies). Playthings for girls required quiet careful handling and often encouraged solitary play indoors. In fact, many of the finer toys offered to little girls discouraged play altogether, being much too delicate and elegant to withstand handling and being carted about. They could also be the result of one's own invention: When she wanted to play in earnest, girls like Mary Ellen Chase growing up in Maine in the 1890's 'preferred playing on the floor with my paper dolls'" By the way, the handkerchief under these dolls is also by Arnold Print Works and patented in 1894. It was one of four available from the Bee Soap Company together with games and books listed in the 1896 Bee Soap Premium Catalogue.
It was inevitable that the changing advertising world would turn to paper dolls of Brownies. Trade cards began to wane about 1890 as magazine advertising began to be the favored method of reaching costumers. The trade card disappeared and giveaways took their place, certainly as collectibles. Magazines had long enticed subscribers with premiums for signing up more subscribers and the method was widely copied.. Earning a small gift was later accompanied by the giveaway, which is just what it sounds like.. There had been an explosion of new products into the marketplace. (The methods of buying by mail and in department stores were also new.) The idea of a brand product, particularily in consumer goods such as food, was not met with immediate acceptance. How could one trust a pre-packaged product in a box when it was readily available in bulk from your local grocer or general store, scooped from a barrel or box? The Brownies offered a ready-made and friendly face for products in need of not only attention, but also to be made non-threatening and acceptible. 53…You have all seen the Brownie Lion Coffee dolls, which carry the well-known 1892 copyright. I do not know how the relationship between Woolon Spice, who made Lion Coffee and to whom Arnold Print Works gave permission, and Palmer Cox, who owned the copyright, worked. LION COFFEE STANDING There are at least 28 different standing Brownie Lion Coffee dolls, eac identified and, intererestingly, written in German, in addition to English. I have been told they could be purchased in booklet form, but I have not seen any. 54 Image the thrill of the budding collector when the package was opened. Would it be the Dude? Would it be one's own national background? German, Dutch, Italian, etc. And one could have amusing results from switching heads and bodies. 55 LION COFFEE…(mechanicals) In 1895 Lion Coffee issued another set of Brownie dolls. This time the nationalities were seated on appropriate animals. These dolls are called mechanicals, and there are 25 in this series.
56…A No 1 CREAM DROPS + Bee Soap (Cox/APW) In 1894, Bee Soap, a brand of the Colgate Company, also issued Brownie Paper Dolls carrying the Palmer Cox/Aronld Print Works copyright…57…A set of 10 genuine Palmer Cox Brownie dolls with intercahangeable headw without advertising will be mailed to you free for 15 Bee Soap wrappers or 5 wrappers and 2 two cent stamps. Colgate & Comapny, 6 Dutch St., New York." Palmer Cox also had a long relationship with Hawley and Hoops, a chocolate company which manufactured A No 1 Creams, which over time became Brownie Chocolate Cream Drops. In 1884, we note the first use of continuing characters in a trade card for A No 1 Creams. These Bee Soap dolls and these A No 1 Cream dolls are the second and third known "licensed" use of the original copyright traced back to Arnold Print Works.58…NEW YORK BISCUIT
In 1890 Palmer Cox's Brownies became the first children's book caharacters to be a product: Brownie Biscuits made by a loose almalgamation of 14 bakeries, which would later become the National Biscuit Company or Nabisco….59…Brownie biscuits were sold in those large metal containers and this delightful trade card advertised them….60…A full set of 16 of these "celebrated Palmer Cox Brownies" could nbe obtained by sending four two cent stamps. You can see by these examplkes that they are not by Cox's hand but nonetheless carry his
name. 61…The product became later Log Cabin Brownies, produced from 1902 to 1920.There were of course imitations: unauthorized ADVERTISING PAPER DOLLS
62…Other imitation Brownie paper dolls included, not surprisingly more coffee.Cordova Coffee by Dannemiller & Co of Canton, Ohio, printed a letter on the belly of each oftheir ersatz Brownies to aid in collecting the tubby figures…63 Reid Murdock and McLaughlin Coffee also produced dolls. The introduction of Art supplements or Sunday supplements with colour constituted ammunition in the newspaper circulation wars. In 1895 The Boston Herald (and others) introduced a series of paper dolls to aid in the sale of fashion patterns. They are
commonly known to you as Boston Herald Ladies. 64…I found that the competing paper The Boston Globe responded with a circulation builder of its own: The Brownie Theater. On Thursday Dec 5, 1895, an ad was run in the Globe for The Boston Sunday Globe: A Whole Theater Free for every boy and girl in New England with a stage curtain,scenery, a complete company of actors The Brownies, all handsome in colour and finish, free with tomorrows Globe. The next day in a three column wide-set of directions for assembly, the play theater wasdescribed as "The Brownie Show," Nothing cheap about it, it's educational, etc.I wanted to show this to you because individual paper figures keep turning up in doll collections and I could not figure them out until I found the connection to The Brownie Theater. The Brownie Theater also appeared in Philadelphia and Cincinnati newspapers. A patent was "Applied For," but I have been unsuccessful in finding it. What I have found
interesting is that Little Red Riding Hood, Rip Van Winkle and many other traditional children's stories played on the stage of the new and modern Brownies. An Altruistic Interchange offered Brownie Dolls from the Frederick A. Stokes Company in January 1895. Stokes offered: "Artistic Paper Dolls, The Most Successful Christmas (6) novelty for children published in 1894 was our "A Year Of Paper Dolls."Our series of these now include A Year of Paper Dolls, 75 cents. Brownie Paper Dolls, 60 cts. The advertisement was not illustrated, but I expect they were the same images by Frances Brundage, who drew four "elves" with pointed caps for Stokes' 1895 calendar. The ad also offered "in preparation, Queens and Martha Washington" and "Brownie Dolls,
Second series. Every mother shoud send for our descriptive catalog." (6)…The Brownies were becoming associated with Christmas in the popular imagination. This is an essay I have yet to write but family Christmas traditions appear to have included the Brownies in several ways. The Brownies were becoming Santa's helpers and family members would dress in brownie costume to hand out Christmas presents. The Christmas tree could be decorated with Brownie decorations from Germany; toys, books, and games, of course, could be found under the tree. In the mid-nineties the entire family could attend the Christmas performances of the Brownies. The Brownie Man inattendance.
OTHER Brownie (?) dolls, figures and notes.
65 In 1992 I wrote Maryanna Trembeth, Director of the Needlework Guild of America inSouthhampton, Pennsylvania after I found a letter to The Letterbox of St. NicholasMagazine fromMrs.CharlesT.Dodd,Secretary of the Glen Ridge Branch, Glen Ridge,New Jersey, November 21, 1890 under the heading The Brownies' Guild. The letter invites children to join the Brownies Branch of the Neddlework Guild of America. Wewere not successful in finding anything about this chapter. Annual reports and Branchreports were missing from the files. But I mention this to you because the successfulresearch in this area is serendipitous and accidental. These young children might havebeen busy creating their own Brownie Dolls.66…English dolls; four dolls of porcelain with lead (/) leags and feet.67…close-up68…close-up69…An unknown Dude.70…This might be a BROWNEE, late 1920's made by a company called Twistum's Funny Fuzzee 71…72…These three are in a public museum in Milwaukee. These are the kind of responses Imight get from museums when I asked about Brownies dolls. You can see that these arereally on the outer edge of definition.73…This is a candy container, one of a series of Brownie figures made of paper with awood base. In a doll collection they function somewhat like the all-bisque. And it is dollcollectors who usually have them.74…candy=open. They are about 7 1/2 inches high.75…These ointed figures are variously described by collectors and by Coleman ascomposition or paper mache. I thought it painted bisque when I first saw them. They arenevertheless quite good and if Coleman's 1904 date is correct, it is unusual to getsomething this nice after 1900…76…without the hat…77…with another hat…78…another
hat. Country of origin is not known. They are more common than other dolls I havefound.The display of Marilyn's Brownie dolls in the case with Cox art from The Free Library,was very instructive this afternoon. You will notice that the doll with the top hat, althoughvery similar-note the eye treatment-is actually different to the dolls just previous to thatslide. The first figures have four joints and the other two joints (arms) with curious wood legs ending in Dutch-style wooden shoes. We do not yet have an answer to this new fact.
Maybe someone thought they would do a Dutch set to rival the Fritz Brownie?79…Brownie silhouette.Myra Whitney and the WHITNEY BROWNIE DOLLNow let me return to Myra Whitney of Bradford, Pennsylvania.Myra's little six inch dolls were a success in Cincinnati in 1888. They were basically anx-shaped piece of wire, which made them posable. Myra then did something which noone had done before in dolls (or toys, for that matter), which were based on characters
from literature. She asked the author's permission to use the author's characters. We do not know if Myra was just a decent person and thought it proper to ask Palmer Cox'spermission, or, if the business skills being offered by the Women's Christian Association of Cincinnati included this attention to the law. I mention this because pirating of novels and plays was common and irksome to writers like Samuel Clemens and others. 80 I think she probably asked Cox in 1888 following the success of the dolls and spent thenext year devising costumes and refining them in preparation for a submission to thepatent office, which she did in July, 1889. The illustration thataccompanied herapplication was an Irish Brownie…no doubt for good luck!But Myra Whitney was organized and confident of the patent being awarded. Whitneyalso made contact with a high-end stationer in nearby Buffalo. By August, The BuffaloCourier was reporting on the new relationship: Peter Paul and Bro. Booksellers andStationers had with Myra Whitney. Trade cards decribed the firm as Headquarters of the Brownies.(7) In November of 1889, Peter Paul & Bro. placed an advertisement in St.Nicholas Magazine illustrated with Palmer Cox Brownies. The one quarter page ad asked"HEAR!" HEAR! Do you wish to see "THE BROWNIES," created by Palmer Cox,alive? Alive? Then send 75 cents and we will mail you…."All of this took place before the patent was awarded on April 1, 189081…THESE ARE THE DOLLS THE WHITNEY BROWNIE DOLLIF YOU HAVE ONE OF THESE, You have a piece of doll history. Myra Whitney made the first doll based on an author's characters with the author's permission. This is the first case in which the author's rights are acknowledged by the "manufacturer." This is a precursor to the concept of licensing, which Cox would formalize a short time later. As the popularity of the Brownies exploded, Cox was able to take advantage of the
interest in his characters by advertisers and manufacturers to the extent that what we now call merchandising was the result. (7) The reverse side of the trade card carried the following text: What the Buffalo Courier of Sunday August 18th said of "THE BROWNIES"of tradition who, as the story goes, delight to perform freindly tasks and helpful deeds while weary households sleep, no longer disport themselves on the hills or hold high carnival in quiet neighborhoods. Their counterparts, however, are displayed in the windoe of Peter Paul & Bro"s Bookstore. Here may be seen "Brownies" of every variety, "Brownies" as Priests, "Brownies"as Chinamen,, as "Brownies" in the dunce's cap, a "Brownie" as a swell with cane and eye glass, a "Brownie" as a policeman with stout baton, a "Brownie" as a schoolmaster, allquaint little figures looking as though they had been set loose from the pages of Palmer Cox's book descriptive of the "Brownie's" pranks and habits of life. The Brownies retail at from 50 to 65 cents a piece. Buffalo hereafter is to be the only abiding place of the"Brownies" as Peter Paul &Bro will have hereafter the exclusive control of t he business. One room in their large establishment will be devoted to the school for "Brownie" making, and it is purposed to manufacture them to personate every conceivable character. People buy them in twos and threes and sometimes as many as six are purchased by a single individual, "to bring luck to the house" as one gentleman said last week to excuse his extravagance in buying six "Brownies" at one time." UP CLOSE-THEY LOOK LIKE THIS-AS FOUND- Chamois, kid,silk, stockinette, feathers et cetera. 82…Jockey CLOSE-UP-head and shoulder 83…Jockey and Policeman- front 84…Jockey and Policeman-back 85..Indian 86…Indian back 87…Irish 88…Irish These dolls were not limited to the region in which they were manufactured. Despite their cottage industry roots and local manufacture, the dolls had a widespread effect. No childhood references have been located, but some personal reminescences refer to
Brownie dolls that could grasp a bedpost. The examples I am going to show you are from the world of commerce. 89…silhouette The D. Lothrop Company of Boston published a book derived from their magazine Wide Awake, entitled Babyland carrying an 1891 copyright. A story; The Egg That Hatched Brownies, is illustrated with two drawings that are clearly Whitney Brownie Dolls. The artist, Bridgeman, has included these same Whitney Brownies in two other stories in the same book. Will Vawter, an artist illustrating James Whitcombe Riley's Child Rhymes with Hoosier Pictures also drew on the Whitney dolls to illustrate several poems. 90…After four years of monthly appearances in the Ladies Home Journal, Cox and the Brownies returned to the pages of St. Nicholas. The event was preceded by a 1894 article describing Cox and the immense popularity of the Brownies. Among the illustrations was a photograph of "A Disciple of Palmer Cox." It was a young boy seated at a table with a drawing slate drawing a Whitney Brownie doll. The dolls became an available, posable substitute for the Brownies. Other forms, such as most bisque dolls, did not afford such versatility. Kodak dealers from 1900 to about 1905 used them in window dsiplays to advertise the Brownie camera. A look at the internal trade circulars between dealers and the company reveal numerous large and inventive
window displays featuring not only these Brownie Whitney Dolls but also-and they are not quite dolls but then doll collectors know them-these Schoenhut figures. You may have seen two of these "dolls" in the exhibition Philadelphia's Factory of Fun: Albert Shoenhut and His Toy Company at the Atwater Kent Museum last year.
Two different stereoviews appear to have used the Whitney Brownie dolls to create images/stories to photograph. The Brownies Santa Claus c. 1903 by C.H. Graves of Philadelphia, publisher of the Universal Photo Art Co. The second is not identified but the same paper mache landscape of the Graves stereoview appears to have been used. The title is The Brownies Playing Lawn Tennis. 91…Those of us who collect brownies, research them, or simply adore them sometimes have odd things happen which make you think that a Brownie is "at your side, " as Palmer would have expressed it. I visited one of Palmer's grandnieces and she told me that when small appliances, such as a toaster, appeared to no longer work, they would place it in the basement. Some time later they would bring it up, give it a try, and it would work. "Brownies," she said. Working on this doll I call the Whitney Brownie Doll, indeed the entire Palmer Cox project has required a good deal of detective skills, good luck and serendipity. I found six of these Whitney Brownie dolls in a collection and by good fortune one still had the patent date on it. 92 Well, by simply looking up the patent, that led me to Myra's name, and the fact that she
lived in Bradford when she applied for it. I found the Bradford Landmark Society and began to correspond. Then I was able to visit and spent an afternoon with Jane Stock, followed later by correspondence with Roseanne O'Hanesian, the librarian at the Hanley Library of the University of Pittsburg in Bradford and Judith Schick at the Bradford Landmark Society. I was trying to locate Whitney family members in an effort to find out more about these dolls and about Myra. It had worked with the Cox family and I was keen to find out more.One thing I learned was that the Whitney family lived outside Bradford in nearby Belmont, New York. I also found that the home was now a museum-a private museum. A phone call to the museum did not reveal much except that the Whitney family was not too interested in the house anymore and the owner had tried to get some interest from one of the grandsons, who was a professor at Harvard or somewhere. I hung up the phone. I had a ton of information about the family but had not uncovered anyone who was living. What was I going to do? I sat in my chair and thought. My gaze settled on a book sitting on an easy chair. My library is full of books on history and popular culture. It was an astronomy book-Whitney's Star Finder. I have no special interst in astronomy and this was a gift-why was it not filed-I do not know. I got up and walked over to the book and picked it up. Charles A. Whitney, Professor Emeritus of Astronomy at Harvard. ummmmmm! He was born in Milwaukee and his current address was mentioned in "the note about the author." I picked up the phone and called Charles A. Whitney. He was Myra's grandson! He remembered the dolls around the house when he was small. And his mother, widow of Charles. S. Whitney (one of Myra's three sons), had written a family history, unpublished,
save for the family members, which he would lend me. Bingo! The Brownies Rule! The history revealed that Myra's doll business had been successful for some years, well into the 20th century, and sufficient to put Charles S. through Cornell University. Charles studied engineering and became a successful structural engineer. His firm was involved with many large projects in Wisconsin and many highways, bridges, coliseums, and
airplane hangers beyond Wisconsin's border's Charles wrote numerous papers and participated fully in his profession. Later he teamed up with a University friend and as part of the firm Ammann and Whitney consulted on projects around the world. Their biggest project was the Verrazano-Narrows bridge. I like the fact that the Brownieshelped to educate a man who built so much of the modern world.93 I have written elsewhere (8)that Cox and his Brownies conveyed to children that realitynvolved complexity, ingenuity, effort, and teamwork. Technology was ab opportunity and a challenge to be enjoyed through the application of creativity, skill, and hard work. As an imaginative device, the Brownies drew upon strong folkloric roots, yet their realization was resolutely contemporary. Palmer Cox and thr Brownies constitute a bridge between the nineteenth century and the modern age.94 And Myra Whitney of Bradford, Pennsylvania can now, I hope, enter the history of dolls i n America.
Wayne Morgan can be reached at:
69 Main Street East
Grimsby, Ontario, Canada
L3M IN5
Telephone (905) 945 5754
Facsimile (905) 945 5768
(8) NOW,BROWNIES SELDOM IDLE STAND: Palmer Cox, The Brownies andCuriosity in The Ephemera Journal, Volume 7 1994. Proceedings of the 4th AnnualNorth American Symposium on Ephemera Studies, The American Spirit ofTransportation held at the Clements Library/University of Michigan, Ann Arborm and
The Henry Ford Museum/Greenfield Village, Dearborn 21-22 October 1994